Warm Bodies by Isaac Marion
R is having a no-life crisis—he is a zombie. He has no memories, no identity, and no pulse, but he is a little different from his fellow Dead. He may occasionally eat people, but he'd rather be riding abandoned airport escalators, listening to Sinatra in the cozy 747 he calls home, or collecting souvenirs from the ruins of civilization.
And then he meets a girl.
First as his captive, then his reluctant house guest, Julie is a blast of living color in R's gray landscape, and something inside him begins to bloom. He doesn't want to eat this girl—although she looks delicious—he wants to protect her. But their unlikely bond will cause ripples they can't imagine, and their hopeless world won't change without a fight.
I went to the movie, because I loved the book but more importantly, I love Nick Hoult.
Jessica's Guide to Dating the Dark Side Beth Fantaskey
The undead can really screw up your senior year . . .
Marrying a vampire definitely doesn't fit into Jessica Packwood's senior year "get-a-life" plan. But then a bizarre (and incredibly hot) new exchange student named Lucius Vladescu shows up, claiming that Jessica is a Romanian vampire princess by birth—and he's her long-lost fiancé. Armed with newfound confidence and a copy of Growing Up Undead: A Teen Vampire's Guide to Dating, Health, and Emotions, Jessica makes a dramatic transition from average American teenager to glam European vampire princess. But when a devious cheerleader sets her sights on Lucius, Jess finds herself fighting to win back her wayward prince, stop a global vampire war—and save Lucius's soul from eternal destruction
Jessica Rules the Dark Side by Beth Fantaskey
It's one thing to find out you're a vampire princess. It's a whole other thing to actually rule. Newly married Jessica Packwood is having a hard enough time feeling regal with her husband, Lucius, at her side. But when evidence in the murder of a powerful elder points to Lucius, sending him into solitary confinement, Jessica is suddenly on her own. Determined to clear her husband's name, Jessica launches into a full-scale investigation, but hallucinations and nightmares of betrayal keep getting in her way. Jessica knows that with no blood to drink, Lucius's time is running out. Can she figure out who the real killer is—and whom she can trust—before it's too late?
Wolf Signs by Vivian Arend
Robyn Maxwell doesn't care that her brother has to cancel out on their backcountry ski trip. She can do it alone. The fact she's deaf doesn't make her survival skills any weaker. The chance to get away from it all and relax in the Yukon wilderness is just what she's been craving.
Meeting wilderness guide Keil at the cabin starts cravings of another kind. Keil's one hot hunk of ripped, tasty male. Now she has to deal with raging hormones as well as strange questions about wolves and mates and challenges to the death.
Keil was trying for a nice reflective retreat before challenging for the Alpha position of his Alaskan pack. He wasn't planning on meeting the woman destined to be his mate, or finding out she's not aware she has the genes of a wolf.
Between dealing with his accident-prone younger brother, a deaf mate with an attitude and an impending duel to the death, his week--and his bed--is suddenly full.
Far from the relaxing getaway any of them had in mind...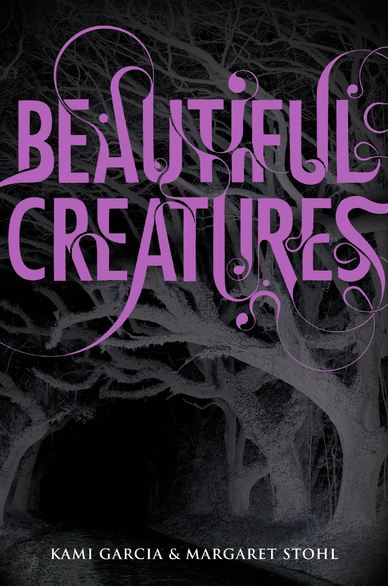 Beautiful Creatures by Kami Garcia and Margaret Stohl
Lena Duchannes is unlike anyone the small Southern town of
Gatlin
has ever seen, and she's struggling to conceal her power, and a curse that has haunted her family for generations. But even within the overgrown gardens, murky swamps and crumbling graveyards of the forgotten South, a secret cannot stay hidden forever.
Ethan Wate, who has been counting the months until he can escape from Gatlin, is haunted by dreams of a beautiful girl he has never met. When
Lena
moves into the town's oldest and most infamous plantation, Ethan is inexplicably drawn to her and determined to uncover the connection between them.
Scarlet by Marissa Meyer
Cinder, the cyborg mechanic, returns in the second thrilling installment of the bestselling Lunar Chronicles. She's trying to break out of prison--even though if she succeeds, she'll be the Commonwealth's most wanted fugitive.
Halfway around the world, Scarlet Benoit's grandmother is missing. It turns out there are many things Scarlet doesn't know about her grandmother or the grave danger she has lived in her whole life. When Scarlet encounters Wolf, a street fighter who may have information as to her grandmother's whereabouts, she is loath to trust this stranger, but is inexplicably drawn to him, and he to her. As Scarlet and Wolf unravel one mystery, they encounter another when they meet Cinder. Now, all of them must stay one step ahead of the vicious Lunar Queen Levana, who will do anything for the handsome Prince Kai to become her husband, her king, her prisoner.
Born Wicked by Jessica Spotswood (Isn't this cover absolutely GORGEOUS?)
Everybody thinks Cate Cahill and her sisters are eccentric. Too pretty, too reclusive, and far too educated for their own good. But the truth is even worse: they're witches. And if their secret is discovered by the priests of the Brotherhood, it would mean an asylum, a prison ship--or an early grave. Then Cate finds her mother's diary, and uncovers a secret that could spell her family's destruction. Desperate to find alternatives to their fate, Cate starts scouring banned books and questioning rebellious new friends, all while juggling tea parties, shocking marriage proposals, and a forbidden romance with the completely unsuitable Finn Belastra. But if what her mother wrote is true, the Cahill girls aren't safe--not even from each other.
Touch of Death by Kelly Hashway
Jodi Marshall isn't sure how she went from normal teenager to walking disaster. One minute she's in her junior year of high school, spending time with her amazing boyfriend and her best friend. The next she's being stalked by some guy no one seems to know.
After the stranger, Alex, reveals himself, Jodi learns he's not a normal teenager and neither is she. With a kiss that kills and a touch that brings the dead back to life, Jodi discovers she's part of a branch of necromancers born under the 13th sign of the zodiac, Ophiuchus. A branch of necromancers that are descendants of Medusa. A branch of necromancers with poisoned blood writhing in their veins.
Jodi's deadly to the living and even more deadly to the deceased. She has to leave her old, normal life behind before she hurts the people she loves. As if that isn't difficult enough, Jodi discovers she's the chosen one who has to save the rest of her kind from perishing at the hands of Hades. If she can't figure out how to control her power, history will repeat itself, and her race will become extinct.